The Gharana
Rampur-Sahaswan gharana is a gharana (musical heritage) of Hindustani classical music centered in the North-Uttar Pradesh towns of Rampur and Sahaswan.
The founder of Rampur-Sahaswan gharana is Ustad Inayat Hussain Khan (1849-1919), son-in-law of Haddu Khan of the Gwalior gharana. Inayat Hussain Khan was born in Sahaswan and lived his professional life in Rampur.Inayat Hussain Khan's two sons-in-law Mushtaque Hussain Khan and Nissar Hussain Khan continued the tradition.Nissar Hussain, who received his training from his grandfather Ustar Haidar Hussain Khan also trained up his son and successor Sarafraz Hussain (who expired in 1999), son-in-law Ghulam Akbar and son-in-law Hafiz Ahmed Khan.
Modern exponents of the gharana like Ustad Ghulam Mustafa Khan have added some new dimensions in the style to make it more complete. Others associated with the gharana include Ghulam Sadiq Khan, Shanno Khurana and Sulochana Brihaspati. Ustad Rashid Khan is a popular exponent of this Gharana.
The Guru
Ustad R. Haryson-a Senior Guru in the Hindustani Music field initially learnt tabla under Ustad Gameh Khan Saheb , his brother Ustad Munnu Khan Saheb and son Ustad Inam Ali khan Saheb of Delhi Gharana. In fact Ustad Munnu Khan Saheb used to say time and again " Haryson is my first and foremost disciple who has imbibed my teachings fully and systematically".The great tabla player Ustad Latif Ahmed Khan Saheb used to regard him as his elder brother , guide and philosopher. Out of regard, Ustad Latif Ahmed Khan never used to demonstrate his world renowned tabla playing skills before Ustad Haryson.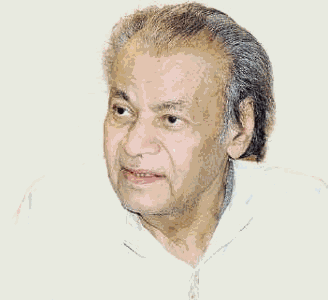 Ustad Hafiz Ahmed Khan
Ustad Haryson further received vocal training under Ustad Hafiz Ahmed Khan and Ustad Ghulam Mustafa of Rampur Sahaswan Gharana. Being exceptionally creative and endowed with exceptional observational powers he also learnt the sitar all by himself. Even Ustad Vilayat Khan Saheb was once astonished at his knowledge of the secrets of the Sitar techniques and requested him to teach these techniques only to deserving disciples.Sri. Lalitkumar, his son and Radio artist(Sitar)-- has been a fortunate recipient of some of these techniques.
On the tabla, Ustad Haryson had accompanied various renowned artists until an unfortunate accident forced him to lead a life of a Teacher and Guru rather than a performer.He has trained numerous students for the B.A. and M.A music exams of New Delhi University. He has been much in demand as a Judge for Classical music competitions and his judgements have been highly relied upon by all.He co-founded a music society 'Ankur' which has served the cause of classical music for over 20 years.Over the past 50 years he has imparted his knowledge and grace to various disciples. Lalitkumar, Satishkumar, Arun Mishra ,Krishnna Natarajan and many others are recipients of his teachings.